It started with five women, meeting in autumn 1996 to sing together.
In the meantime we are 13 singers. We call ourselves Choir aKusstik and have our roots in Roggenzell.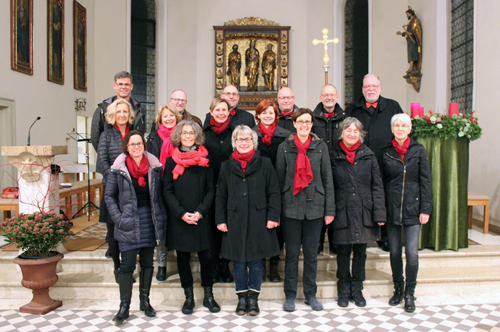 We love to sing songs in different styles and from miscellaneous epochues. It's a balm for our souls.
And from time to time we have guests as well. Exceptionally nice performances we had with the 'Kammer- und Keller-Orchester Dornbirn', from Vorarlberg, the 'Phoenix Brass Quintett', the choir of the elementary school from Achberg and various organists from the region.
Again and again we are attracted to distant places. Our targets are amongst others Vienna, Regensburg, Göppingen, Freiburg and Rivoli in Italy.
Regularly we give concerts like our summer evening concert, our advent meditation, various church services, christenings, ...
If someone feels like effortlessly singing with us, is always heartly welcome. Every Monday evening we exercise and sing from classics, old music and renaissance. Pop songs, gospel songs, jazz and folksongs we like as well.
If someone wants to join our choir..., any time gladly!
To get more information please contact our choir leader Beate Knill:
Tel.: 0049/8382/9433359
or use the contact form.